Stainless Steel, Mild Steel & Aluminium Fabricators
At R J Mullin Ltd, we have a team of specialist stainless steel, mild steel and aluminium fabricators who can manufacture virtually anything that can be made from metal.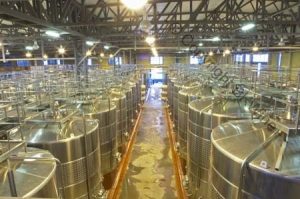 Stainless steel bench tops, splash backs and kick plates
R J Mullin Ltd specialises in making custom built stainless steel bench tops for private homes, restaurants, hospitals, surgeries and laboratories.  All of our bench tops are built to custom specifications.
We also make hand rails to suit every possible requirement, including for stairs, boats, balconies, etc.
Vats and tanks our specialty
The wine industry, olive oil production, and paint manufacture are some of the uses our stainless steel tanks and vats have been put to.
General sheetmetal work & specialist one off items
R J Mullin Ltd have made aluminium bus panels, display stands, football goal posts, shower trays and a huge variety of different items.  We can provide a fixed price for fabricating well defined items.
Free quote
Call us now to discuss your metal requirements – if you can draw it – we can make it!